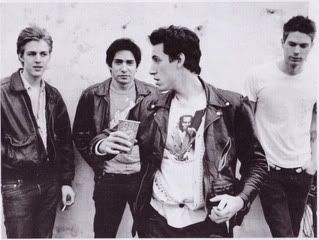 Photo: David Black
A Rock Band That's Easy to Like and Hard to Google
by: Jonathan Durbin
The Virgins, a quartet of downtown New York City boys, are on the verge of releasing their major-label debut, a brash collection of rock 'n' roll songs. The album (self-titled; due out on Atlantic Records) pays tribute to a host of art bands, from the Velvet Underground and the Talking Heads to Jonathan Richman and the Modern Lovers, without itself being overly arty. This is refreshing since the group's 26-year-old singer, Donald Cumming--a tall, swaggering presence--comes with the requisite below-14th-Street-art-kid pedigree.
Manhattan born and bred, Cumming grew up in TriBeCa, where his father owned a liquor store. As a 14-year-old, he used to ritually sneak into Don Hill's to attend 80's Night. After dropping out of high school, Cumming flitted around, sleeping on the couch of a close friend, the photographer Ryan McGinley, dabbling in film (

he served as the director of photography for Jennifer Venditti's documentary BILLY THE KID

), and generally immersing himself in nightlife. "Everybody just decided that going to parties was more important than going to school, and making art was more fun than working at jobs," explains Cumming. "Everybody just sort of figured it out and didn't compromise."
Cumming met the Virgin's guitarist, Wade Oates, when the two were modeling for a McGinley shoot in Mexico in 2004. They had barely founded the band (rounded out by bassist Nick Zarin-Ackerman and drummer Erik Ratensperger) when the group opened for Patti Smith during Paris Fashion Week. Since then they've sharpened their live act by touring the U.S. and have had music featured on the CW's decidedly uptown series

Gossip Girl

. "I do feel like you only get one chance to have a self-titled record," says Cumming. "You can do it later, but it's so lame to do that, don't you think?" He adds, "We embrace that aesthetic of being creative and having fun and not being uptight and so precious about everything."